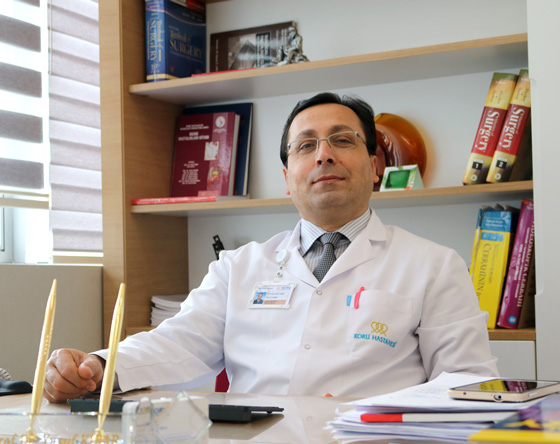 Prof. Dr. Yusuf Kibar
Prof. Dr. Yusuf Kibar was born in Sivas in 1969. After completing his primary and secondary education in Sivas, he graduated from the Military School of Medicine at Gülhane in 1993. Between 1994 and 1996, he served as the head doctor at the Cizre Revir. He completed his specialty training in urology at the GATA Department of Urology between 1996 and 2000. From 2000 to 2002, he served as the head of the urology clinic at the Sivas Military Hospital. In 2002, he was appointed as an assistant professor in the GATA Department of Urology. He became a professor in 2007 after successfully passing the professor exam. Between December 2007 and November 2008, he worked as a pediatric urology fellow under Prof. Bradley P. Cropp, one of the most renowned pediatric urologists in the United States, at the University of Oklahoma Health Center and Children's Hospital in Oklahoma. After returning to Turkey, he continued his work in pediatric urology with Prof. Dr. Murat Dayanç and received his pediatric urology specialist diploma in 2011. Between April and June 2013, he received laparoscopic and robotic training from Prof. Dr. Jens Rassweiler, one of the most important laparoscopic and robotic trainers in Europe, at the University of Heidelberg Heilbronn Hospital Department of Urology in Germany. He became a professor in 2014 and retired from the GATA Department of Urology in 2016 at his own request.

Prof. Dr. Yusuf Kibar has achieved significant success in the field of pediatric urology in Turkey, particularly in the diagnosis and treatment of urinary problems in children. He was the first in the world to publish a study on the injection of stem cells into a damaged bladder in the prestigious journal Stem Cell Review and Report. He presented the initial results of this study at the 9th National Pediatric Urology Congress in 2007 and won the first prize for oral presentation. The final results of this study were presented at the 20th National Urology Congress in 2008 and won the first prize for experimental presentation at this congress. In addition to his work on stem cells, he has also made important contributions in the field of laparoscopic and robotic pediatric urology.

Prof. Dr. Yusuf Kibar has made valuable contributions in the field of robotics, particularly in the area of pediatric robotic urology. He has the largest series of pediatric patients operated on by robots in Europe. He won the first prize for video presentation at the 2015 European Urological Association, Section of Robotic Urology meeting due to his successful robotic surgeries. He was also the first in Europe and in Turkey to successfully perform fully intra-corporeal robotic omental interposition ileocystoplasty on two children with neurogenic bladders.

Currently, he has 58 national and 74 international publications, 139 national presentations, and 76 international presentations, as well as 2 international and 19 national book chapters. There are a total of 1300 cited studies based on his publications.

Prof. Dr. Yusuf Kibar is a member of the American Academy of Pediatrics, Section of Urology (AAP), Society of Fetal Urology (SFU), European Society of Pediatric Urology (ESPU), National Association of Pediatric Urology, Turkish Urology Association, and Turkish Urological Surgery Association. He speaks English and German. He is married and has three children.